The Seventh Generation, Tomari [Ecchi]
5
out of
5
based on
15
user ratings.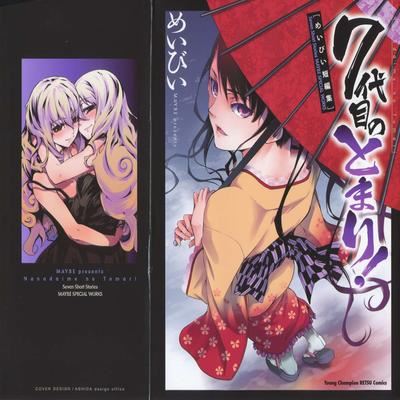 10152
(score 5/5 with 15 votes)
7代目のとまり![めいびい短編集], 7 Daime no Tomari!, 7代目のとまり!, Nanadaime no Tomari!
Parody -
Ranking 10362nd
Status Ongoing
Release Year 2010
View 15,029 views
Author Maybe
Artist Maybe
Character -
Language English
Storyline

Seven Short Stories About Sex (spanning across 11 chapters):
Ch. 1-3) 7 Daime no Tomari (The Seventh Generation, Tomari): Tomari is a cursed woman who must do specific sexual things with her partner or the curse will kill her. Her partner, randomly chosen by the curse, is a guy called Naoki. He's pretty much willing to do whatever she needs, but Tomari will have to get past his incestuous sister Kyoko first.
Ch. 4-6) Hajimete to: A teenage couple, Seriko and her boyfriend Ogihiko, find themselves caught in a plot from her crazy yakuza family to make them lose their virginity together.
Ch. 7) Sandy Go Home: Yoko returns from studying abroad in America with her sex-crazed roommate Sandy, and they both proceed to fight over who gets to have sex with her brother.
Ch. 8) Mete Yunde: After their parents died in a traffic accident, Morote's two older sisters became insane. Is he safe in the house with them any longer?
Ch. 9) Pastel Ivory: School kids have a sexual encounter in a bathroom.
Ch. 10) Ninjia Shoujo Makari Tooru: When a ninja invades a girl's bedroom, he finds himself completely outmatched by her skills, both ninja and erotic.
Ch. 11) 80D: A couple has a sexual exploit in a library after hours.
Adult Warning
This manga has been categorized as for 'Adult (R18)', therefore may contain intense violent, blood/gore, sexual content and/or strong language that may not appropriate for underage viewers. So if you're under the legal age of 18, please go back.
The Seventh Generation, Tomari [Ecchi] Chapters
Discussion
Please report issue like missing/incorect tag via report button at the top. We do not monitor comment section.