Sweet Hearts (KISARAGI Gunma)
4
out of
5
based on
416
user ratings.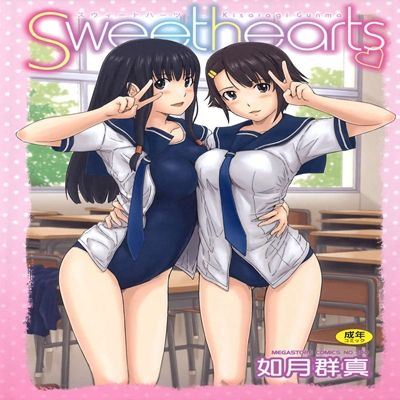 226
(score 4/5 with 416 votes)
Beauty Contest Rhapsody - After Days, Curiosity Never Stops, Doki Doki Kousai Checker
Parody -
Ranking 128th
Status Completed
Release Year 2011
View 282,924 views
Author KISARAGI Gunma
Artist KISARAGI Gunma
Content Bathroom IntercourseBloomersBlow jobCaught in the ActCheerleadersCreampieCunnilingusDeflorationFingeringGroup IntercourseJealousyLove TrianglesOlder Female Younger MaleOutdoor IntercoursePaizuriPorn with PlotPublic IntercourseRich GirlSchool GirlsSchool IntercourseSex ToysStudent CouncilSwimsuit/sTeacher-Student RelationshipThreesome (MFF)
Character -
Language English
Storyline

1-4. Sweet Hearts
Akane likes Sasano, but cannot get herself to confess. Shirashi is Akane's best friend, and also likes Sasano. Sensei has a special sex ed class to try and get the students to couple up, but Sasano ends up with both Akane and Shirashi. It is sex all over the school from there, as Akane and Shirashi compete for Sasano's affection. One day Sasano realizes this can't go on, but he can't decide between them...that's when the girls show up a his door together and confess to him. So much for taking time to think about it—what will Sasano do?

5. Immoral Girl
The poor student body president is having illicit fantasies, after hearing the confession of a boy in her school.

6. Misukon Kyousoukyoku (Miss Contest Rhapsody)
Clubs campaign for votes in a school festival beauty contest, since there is a rumor it effects club budgets.

7. Misukon Kyousoukyoku - After Days (Beauty Contest Rhapsody - After Days)

8. Koukishin ga Tomaranai (Curiosity Never Stops)
Taichi confesses to Asuka, but is turned down. While he cannot be her boyfriend, as she is engaged, he could be her sex friend. Will he take the job?

9. Dokidoki Kousai Checker
Satonaka's grades have been going down. He seems troubled by something, so his homeroom teacher tries to get him to let her help. It turns out that Satanoka has no luck in love. Every girl he falls for starts seeing someone before he can confess. What's worse, is that there is a site that shows who is dating who in his school, and he is the lonely blank spot. Feeling sorrow over his broken heart, she offers to date him...but is she ready for all that entails?

10. Sweet Hearts: Bangaihen
Adult Warning
This manga has been categorized as for 'Adult (R18)', therefore may contain intense violent, blood/gore, sexual content and/or strong language that may not appropriate for underage viewers. So if you're under the legal age of 18, please go back.
Sweet Hearts (KISARAGI Gunma) Chapters
Discussion
Please report issue like missing/incorect tag via report button at the top. We do not monitor comment section.